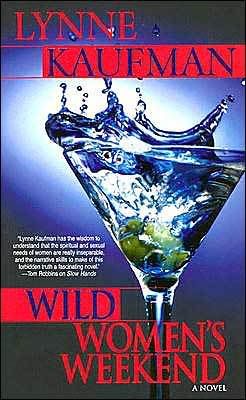 Title: Wild Women's Weekend
Author: Lynne Kaufman
ISBN: 0778320545
Publisher: Mira
First Published: June 2004
Pages: 265
Mystery
Four women friends (Ann, Maria, Sabrina and Deb call themselves "The Coven") get together for their annual weekend get away. They head out Ann's beach house which is on the California coast. The women have named the cabin - Nirvana. The first night they decided to kick it up a notch and head over to a local bar - The Last Roundup. They drink and dance the night away. At they bar, they meet a drifter named Hughie and he asks them for a ride. They hesitate at first, but then they think 4-to-1 and they give him a lift.
Instead of dropping him off when they get to the campground, they feel bad that he will be sleeping in the rain and take him back to the beach house. They have more to drink and are having a good time - then their weekend of fun turns bad. The next morning they find their guest dead. The quartet decides to bury the drifter so that they would not have to deal with the police. They paniced.
The women do not talk about that night again...until Ann finds out that they will be doing construction work by mile marker 13 - where they buried the drifter. That's where the story takes off on a wild ride.
1. The Poe Shadow - Matthew Pearl2. Danse Macabre - Laurell K. Hamilton
3. The Double Bind - Chris Bohjalian
4. Twilight - Stephanie Meyer
5. A Killer Stitch - Maggie Sefton
6. Mistreal's Kiss - Laurell K. Hamilton
7. Rain Village - Carolyon Turgeon8. Black Moon Rising - Damien Ashton
9. The Demon Awakes - R.A. Salvatore
**up next
10. Disobedience - Naomi Alderman
11. Ophelia - Lisa Klein
12. Voodoo Season - Jewell Parker Rhodes
13. Wild Women's Weekend - Lynne Kaufman
Added:
Stephanie Pearl-

McPhee

Casts Off: The Yarn Harlot's Guide to the Land of Knitting - Stephanie Pearl-

McPhee

**added after list was created